Choosing your coffee machine is ideal for enjoying a good coffee.
On Shoppydeals.fr, we share our opinion on coffee machines.
Here is a list of coffee machines to compare and share your experience. You want to buy a coffee machine for the home, for the office or as a gift.
Reviews Coffee machines on Shoppydeals.fr
1- DeLonghi ECAM 290.61 Magnifica EVO
The Magnifica Evo embodies the De'Longhi experience with its advanced technology, authentic beverages and sleek, silver and black design. Serve the perfect Italian espresso and a range of other coffee and milk drinks, with 5 one-touch recipes available on the intuitive color display. Enjoy the soft, silky texture of dense, creamy milk froth thanks to the exclusive LatteCrema system.
Features
Create personalized milk and coffee drinks with My Latte
5 one-touch recipes including espresso and cappuccino
Creamy, dense and long-lasting milk froth at the ideal temperature with the automatic LatteCrema system
Dishwasher safe grid and milk carafe, plus automatic carafe cleaning function for optimal hygiene
Our review of the Magnifica Evo coffee machine from Longhi is an excellent appliance that makes it much easier to prepare a coffee, a cappuccino, an americano ect… You will be able to prepare a range of drinks with and the easy to use features. clean make it a very good choice.
It is, however, a huge machine and takes up a lot of space in your kitchen.
2- Philips 3200 coffee machine
Easily brew aromatic coffee varieties like espresso, coffee, cappuccino and latte macchiato at the touch of a button. LatteGo tops milk varieties with silky smooth foam, is easy to set up and can be cleaned in as little as 15 seconds.
Advantage of the coffee machine Coffee machine 3200
Share the experience with these 5 delicious coffees with fresh beans, easier than ever
LatteGo, the fastest to clean milk system ever.
5 Drinks
LatteGo
Silver
Touchscreen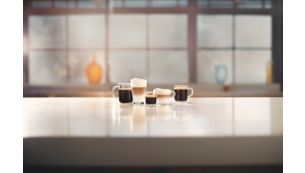 Enjoy 5 coffees at your fingertips, including cappuccino
Enjoy your favorite coffees for your special moments. Whether you're craving an espresso, an Americano or a latte, your bean to cup coffee machine delivers perfect results in no time and hassle!
Silky smooth milk froth thanks to the high-speed LatteGo system
Top off your coffee with a silky layer of milk froth. The LatteGo mixes milk and air at high speed in the round frothing chamber, then adds a layer of creamy, splash-free milk froth to your cup at just the right temperature.
Easy selection of your coffee thanks to the intuitive touch screen
The irresistible taste and aroma of coffee from fresh beans is at your fingertips. Our intuitive touchscreen makes it easy to select your favorite coffee.
Our review of the Philips 3200 coffee machine is really easy to use, simple steps and easy touch buttons to select your choice of coffee, strength etc. Frothed milk is easy to produce and works very well. The beans are easy to add and have storage space so you don't have to add more every time unlike ground coffee.
The machine is easy to clean after use and very little mess when cleaning the different parts. There are some drawbacks to the machine, is it sometimes quite noisy and although we select a large cup, we have to run the choice twice to get the desired amount of drink.
3- KRUPS EA811840 coffee machine
Compact bean to cup machine for easy professional coffee results at home!
Advantages
Sleek, compact design without compromising on capacity - brews up to 10 coffees without refilling
Simple push-button controls with rotary dial, plus temperature and grind controls for personalized coffee
Manual steam nozzle for a perfectly frothy cappuccino at home; easy to clean for added convenience
KRUPS Quattro Force optimizes grinding, tamping, percolation and drainage for a difference you can taste
Easy espresso
Professional espresso drinks made simple in a compact, sleek design to fit in any kitchen.
Practical ability
The generous water tank and the bean container make it possible to prepare up to 10 coffees.
User-friendly
Push-button controls with rotary dial provide intuitive operation.
Personalized coffee
Adjust the temperature, grind setting, coffee type and volume for a custom coffee.
Hassle-free foam
Easy-to-clean manual steam nozzle for cafe-quality cappuccinos at home.
Impeccable results
With the KRUPS Quattro Force system for better coffee, four ways
Repairable for 10 years
Designed for easy repair at the lowest cost for 10 years; rapid delivery of parts to 6,500 repair centers worldwide.
Our review of the KRUPS EA811840 coffee machine is an excellent budget machine for espresso.
Discover our coffee machines on Shoppydeals.fr.

Join us on our social networks: